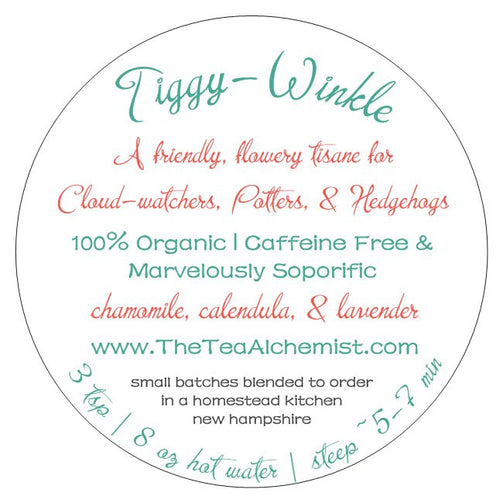 Tiggy-Winkle
Tiggy-Winkle
Regular price

Sale price

$16.00 USD

Tiggy-Winkle is a delicate, flowery tisane, inspired by the sweet nature adventures described in the Beatrix Potter tales I've enjoyed my entire life. 
Beatrix Potter's character Mrs. Tiggy-Winkle is a motherly hedgehog who cares for others by laundering and mending their clothes, and of course, by fixing her visitors a cup of tea. Tiggy-Winkle Tisane is one of the teas I imagine her serving -- prepared with mindfully gathered chamomile, calendula, and lavender flowers, straight from her hillside garden. 
"Mrs. Tiggy-Winkle made tea—a cup for herself and a cup for Lucie. They sat before the fire on a bench and looked sideways at one another. Mrs. Tiggy-Winkle's hand, holding the tea-cup, was very very brown, and very very wrinkly with the soap-suds; and all through her gown and her cap, there were HAIRPINS sticking wrong end out; so that Lucie didn't like to sit too near her." -- Beatrix Potter (The Tale of Mrs. Tiggy-Winkle)
100% Organic.  Naturally Caffeine Free & Marvelously Soporific.
Available in metal tins (~40 servings) and compostable refill bags (~48 servings)
Couldn't load pickup availability