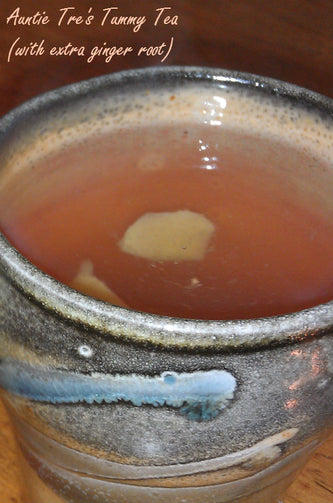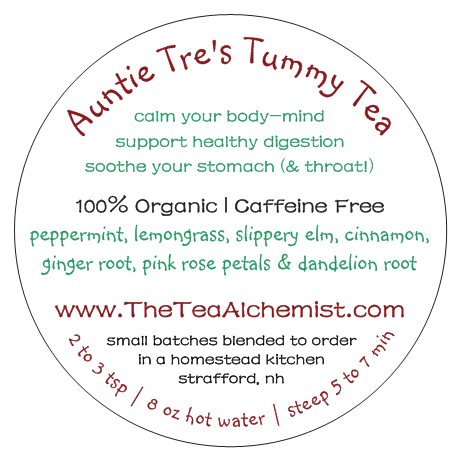 Auntie Tre's Tummy Tea
Auntie Tre's Tummy Tea
Regular price

$0.00 USD

Sale price

$18.00 USD

A tummy-soothing (and throat-soothing) blend.

Auntie Tre's Tummy Tea was created in honor of my late great Aunt Teresa who gracefully conquered pancreatic cancer for two and a half years. During that time, she endured stomach pains, nausea, low appetite, and various other digestive symptoms. I began blending this tea for her comfort, and later finished it in her memory. And now, here it is for your benefit and enjoyment.

Until the 11th hour, Auntie Tre's Tummy Tea had six powerful ingredients, each of which has been shown to support healthy digestion in complementary ways: peppermint, lemongrass, slippery elm bark, ginger root, cinnamon, and dandelion root.

But something was missing. Something delicate. Something beautiful. ... Rose petals.

I couldn't blend a tea in my aunt's name and not include rose petals. Adding them made all the difference. You'll be soothed and smiling, even before your first sip.

I'm grateful to have a selection of English and Japanese tea cups that once belonged to my Aunt Teresa, and I used them for tasting throughout the process of crafting Auntie Tre's Tummy Tea. I'm drinking some as I write this, and I'm convinced those cups infused this blend with magic.

100% Organic.  Caffeine Free.  
Available in metal tins (~40 servings) and compostable refill bags (~48 servings)
Couldn't load pickup availability